PACKING YOUR ASHES:
Tools and Supplies you may need:
Place mat or paper: To catch any spills.
Screwdriver: To unscrew or pry the urn/container open.
Scoop or spoon: You can use a plastic spoon.
Scissors: To cut the zip tie or plastic bag inside the urn open.
New zip tie, or tape: To seal the ashes inside the urn again.
2 brand new small zip-lock sandwich baggies: To place your ashes inside.
Permanent Marker: To label your bags.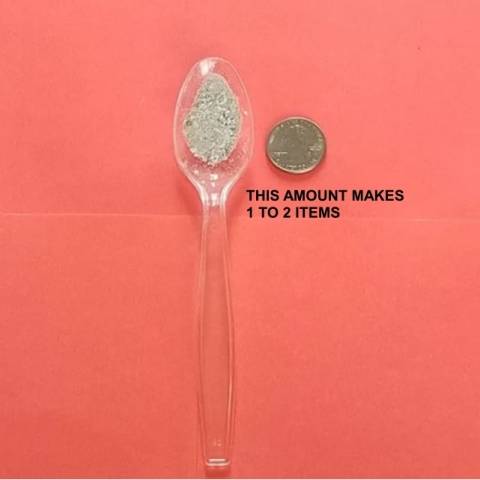 COLLECTING & SENDING FUR, HAIR, ASH, OROTHER ITEMS:

Only a half of ateaspoon is needed for your 1 to 2 pieces of jewelry, I only need one small bagof the ashes. DO NOT MAKE EXTRA BAGS unless you have separate ashes fordifferent Jewelry.
On the 2-small zip-lock sandwich bagswrite both your name and the name of deceased, the phone number and the ordernumber.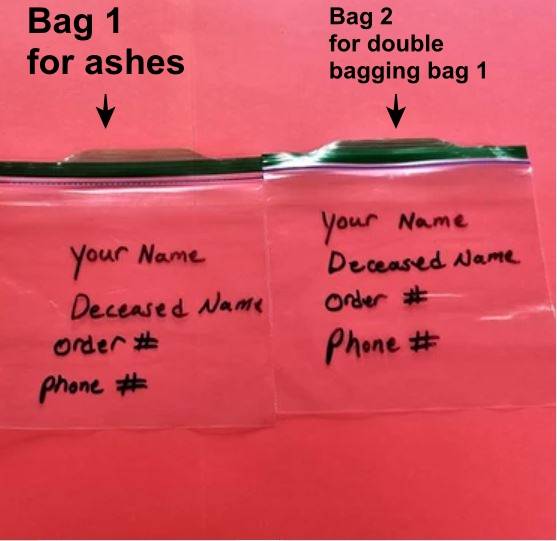 Baggie 1. Place no more than 1/2 to 1 teaspoon of ashes into firstbag, if you have more than 2 ites fill the First baggie accordingly. Please zipshut with as much air out of the baggie as you possibly can.
Baggie 2. Place the first baggie into the second empty baggie. This isonly added protection if the first baggie was to open in transit. Please makesure both are zipped shut.

Tip: rolling the bag will remove air then seal it shut when at the top.

When shipping make sure to include a copy of your paid invoice.
This is needed foridentification purposes, if you do not have a printer please write on a pieceof paper your name and order number.

SHIPPINGINSTRUCTIONS:
This section will go into detail regarding how you need to ship your cremationremains. Please read ALL the shipping instructions carefully.


Documentation and What to Ship:
A copy of All transaction receipt will need to be supplied with the remains.This is needed for identification purposes. Send only one pertransaction.

INCLUDE: FIRST AND LAST NAMES, SHIPPING NAME, BILLING NAME, PETS OR LOVED ONESNAME


· Your address
· Your Phone number
· Transaction #
· Optional images youwould like to send. (Write your name and loved one on the back)
· Let us know if youwant the photo sent back to you. (We do like to keep them.)
· Your labeled andtriple bagged remains.
· Do not put your papersinside baggies with ashes.


USPS is the only legal shipping that you can mail ashes in the USA.
Use a cardboard envelope or cardboard box. (DO NOT use padded or thin paperenvelope, they rip, and contents fall out.)

Tape the seams of the box, poorly taped boxes arrive flat and crushed.

Shipping Cremation Remains as Per USPS
The United States Postal Service offers the only legal method of shippingcremated remains domestically or internationally. When a family member assumesthe responsibility of shipping a loved one's cremated remains, they can trustthe USPS Priority Mail Express® Service. Priority Mail Express pricing startsat $24.70 to ship.

You may be reading this brochure because:
A relative, someone you know, or a pet has died and been cremated, and you needto ship the remains to someone at another location within the United States oranother country.
You and your family have opted to distribute the cremated remains of a lovedone between family members at other locations within the United States oranother country.
You are sending cremated remains to an artisan or craftsperson to incorporatethe remains into blown glass, jewelry, or other works of art.
There are specific requirements for preparing, packaging, and shipping human oranimal cremated remains. The Postal Service is here to help you understand howto meet these requirements and take the necessary steps to protect this specialmailing. By following these requirements, you can be confident that you havedone everything you can so that your loved one's remains can arrive at theintended destination safely.

Shipping USPS Express is more expensive and start at a cost of $24.70 and isthe legal way to ship cremated remains. The Express parcel is hand carried tomy business and dropped off only with a signature and is insured.

Shipping USPS Priority mailis inexpensive about $5 to $7.

In the past, I have had customers ship with this method most commonly and thepackage arrived without any complications. Customers have packed the contentsin a sturdy box before bringing it into the post office. If you choose to gothis route be sure the remains are packed per the instructions, so it does notleak and shut down the facility. If you need to claim what the contents aresimply stated, they are "jewelry supplies". Please note this is at yourown discretion. Please get tracking, you are responsible for thepacking and shipping you send to us.


Ship to:
CO/ Ken at Cremation Jewelers
147 Little Oaks Rd
Encinitas, CA92024